Enjoy your Days Tour to the White Desert and Bahariya Oasis from Cairo, Explore the Black desert, Crystal Mountain, and Enjoy unspoiled nature, include One-night Camping in the white desert. The white desert is one of the most Beautiful Places you can Ever see in Egypt Western Desert
DESERT SAFARI EGYPT TOURS
Our Company will Offer you a beautiful hospitality To Spend Days and Overnights in the

Black

and White Deserts of Western Desert Egypt with this experience from Cairo. You'll spend time exploring the otherworldly landscapes of El Agabat Valley with stops at the Mushroom Valley magnificent sunset and explore the area Set up Bedouin campsite and Enjoy dinner around the campfire under the stars .
We are professionals in organizing safari trips to the best desert sites in Western and Eastern Egypt and we have a long range in that, and we offer part of our tours to be flexible to suit all types and ages of our customers to give them an opportunity to create special tours there according to their time and what they like to do . We offer you a beautiful tour of the western desert, the most beautiful desert in the world, and it includes the Black Desert – the village of El Hayz – the Crystal Mountain – the mountains of

 

El Agabat – the Old White Desert – the

 

New White Desert

 – as well as the neighbor's cave the most beautiful what the human eye has seen, and we also do tours in Siwa Oasis – Faiyum –

 

Dakhla

Oasis

 – Kharga Oasis – Great Sand Sea – Djara Cave – and all the valleys. We offer these trips with 4×4,

C

amel  Tour

trekking

 or hiking – Meditation Tours -or a  –

 

Gilf Kebir We will also be happy to customize a tour to fit your needs for any size group and many other places Tourism in Egypt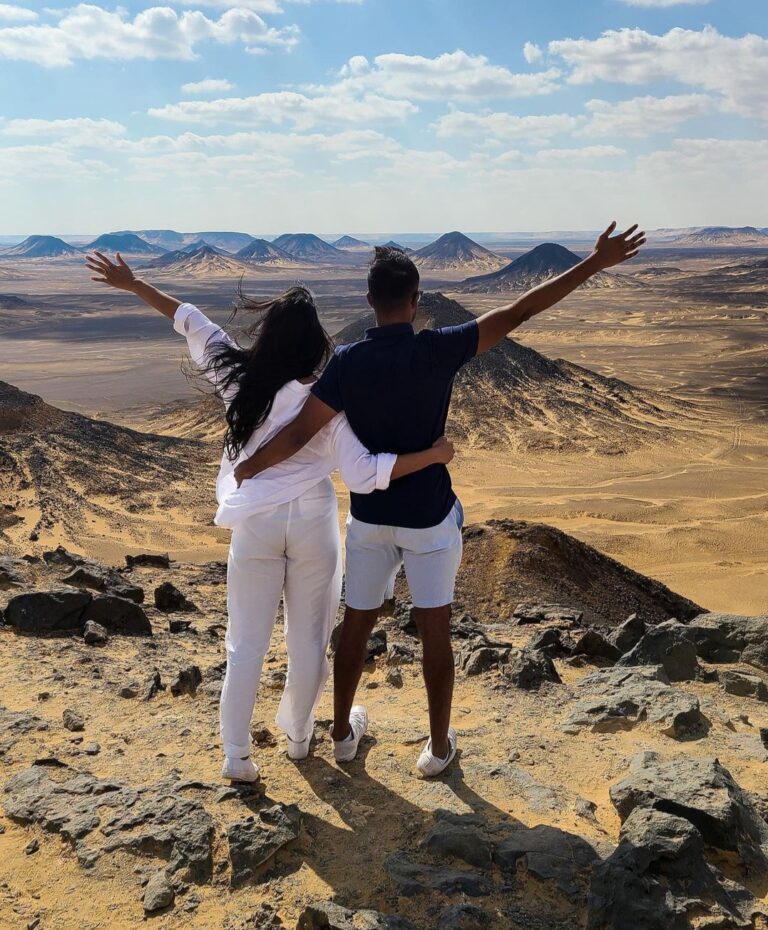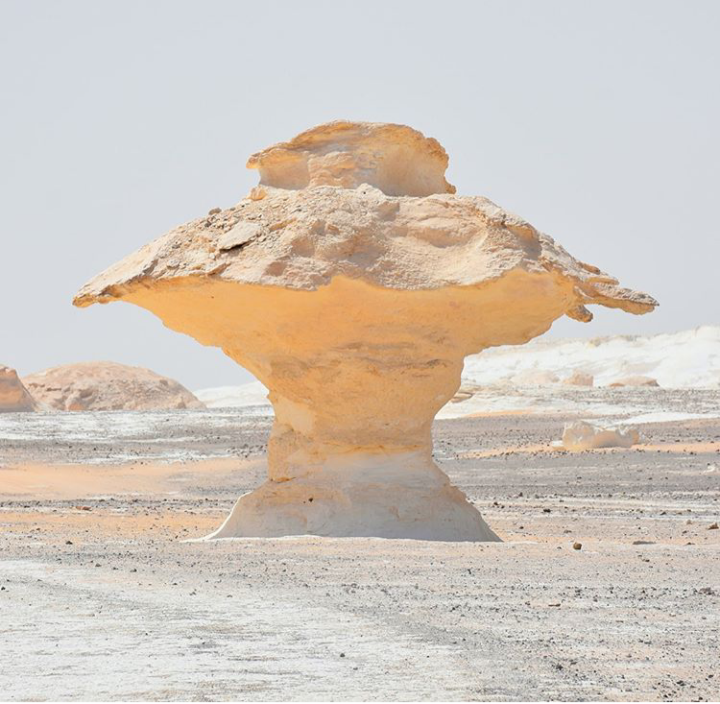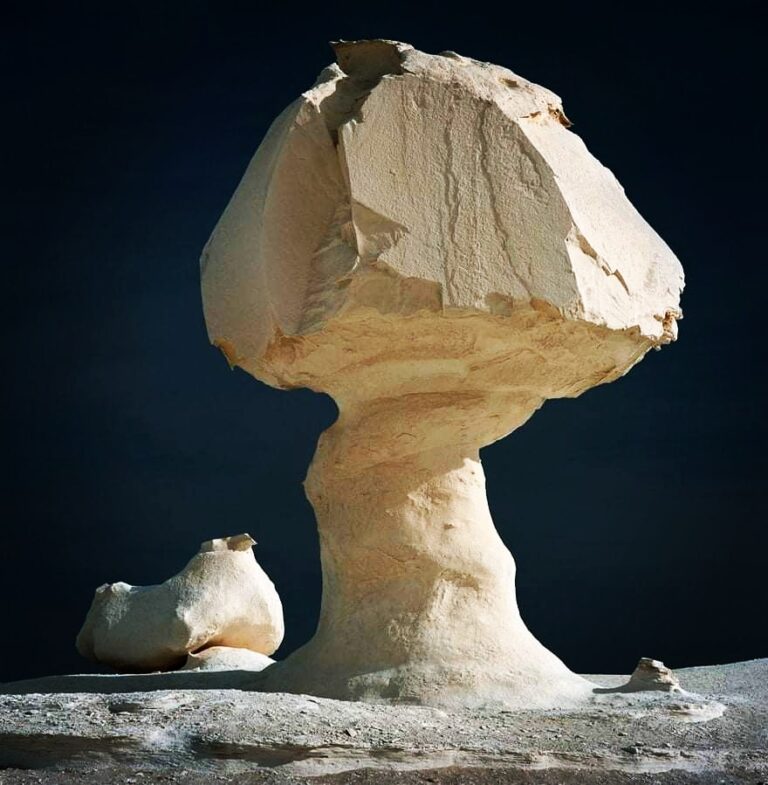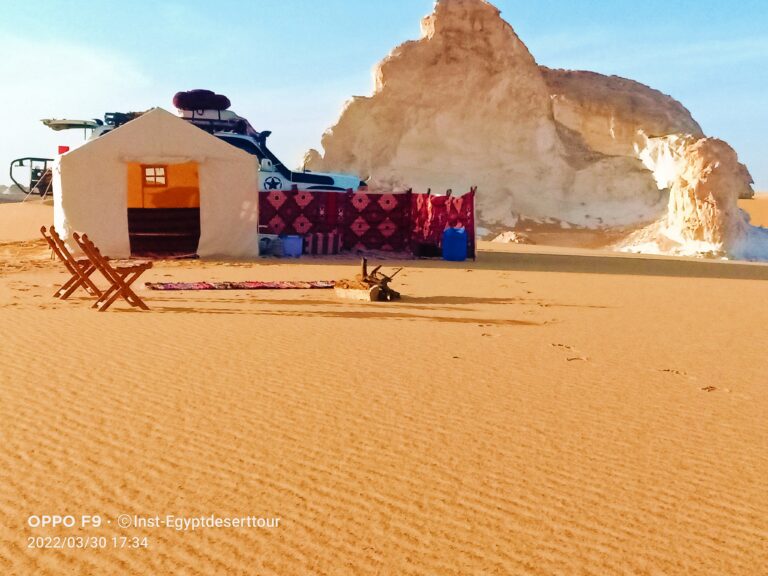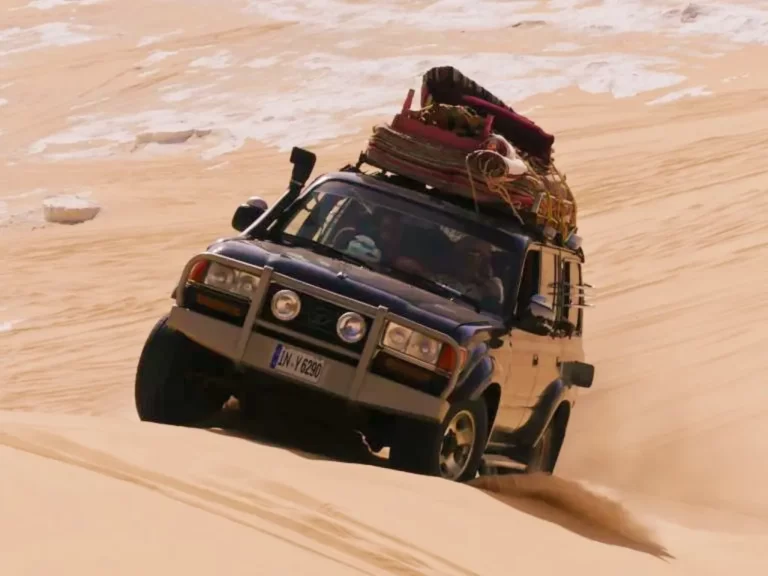 Most travellers to Egypt have a long list of destinations they want to see, including the Great Pyramids of Giza, the Red Sea, Luxor, and the ruins of Abu Simbel. I wanted to see the country's more unspoiled splendour and get a peek of the enormous

Sahara

. Fortunately, the Black and White Desert were convenient days  Trips from Cairo " by White Desert Tour
The opportunity to spend a full night in the centre of Egypt's Black and White Desert is without a doubt the highlight of taking a tour 

C

amp  here, complete with seats, a fire, and rugs to keep warm. and chicken dinner and grilled meat, and Bedouin tea
DAY SAFARI IN WHITE DESERT
Day  Safari In White Desert Also you can have a

Day safaris Tour

in black and white desert if you don't have enough time to spend a Full night camping in White desert ' can you let us know in your booking the Tour than we will O

rganize 

for you from Cairo to Cairo
We will Organize for you the

Tour from Cairo Hotel

to Bahariya oasis then arrived our hotel have the lunch and start to visit the Black desert and

Crystal Mountain

and beautiful site of El Agabat and old white desert and New White desert mushroom Valley and will arrive in magnificent sunset time and Explore the area and come back to Cairo
The White Desert Egypt is 45 kilometres north of the Farafra Oasis, in the New Valley Governorate, about 500 kilometres north of Cairo. In 2002, it was designated as a nature preserve. The White Desert got its name from the white tint that covers the majority of its surface. It contains a big chalk rock and a total size of 3010 square kilometres. Many of the formations in the Desert were formed as a result of the area's occasional sandstorms.   LINK
The Total Area. White Desert Egypt is 3010 square kilometres, the most of its components are white. Because it serves as a simulacrum for the karst kama phenomena, the White Desert is a reserve of deserts and landscapes. In addition to having prehistoric artefacts, it is an open-air museum for the study of the desert environment, geographical phenomena, fossils, and fauna. The geological formations of the white limestone and chalk rocks, as well as the fossils they hold, are what give the reserve its unique aesthetic appeal.
WHITE DESERT NATIONAL PARK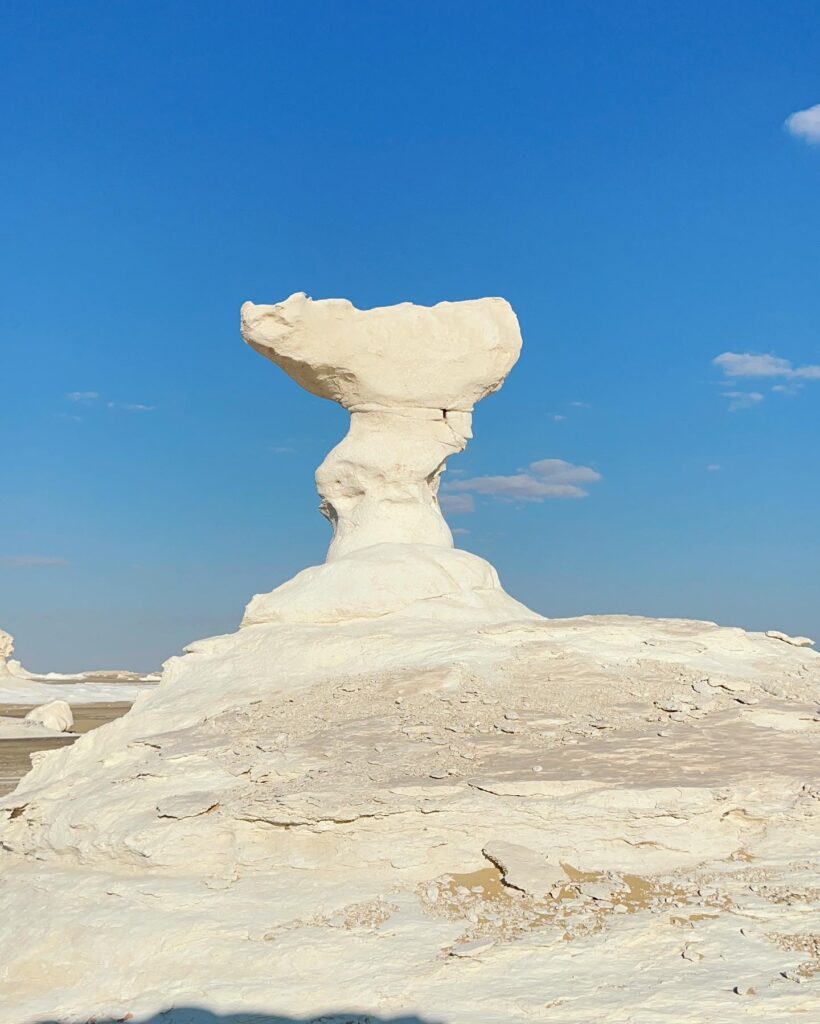 The White Desert Natlonal Park it's most important and beautiful nature reserve in the world, which is the Western desert in

Egypt

, the most beautiful country in the world. Egypt has many Tourist places and wonders that scientists have been unable to explain.
The calcifications of the White Desert were formed over 80 million years ago, and their calcifications are of a unique quality called karst, which is a very ancient geological phenomenon. Different that has become her area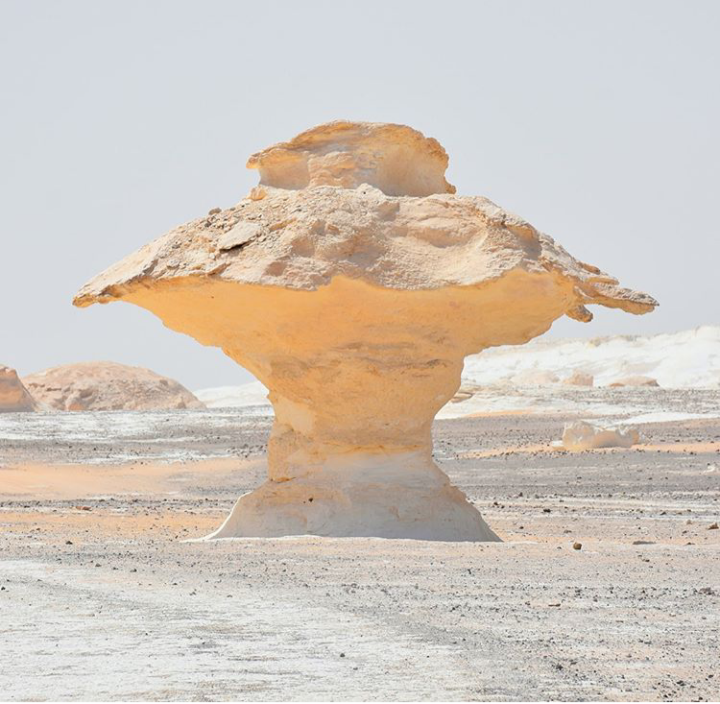 The

White Desert

is not only strange in its color, but it has wonderful sand formations that increased its beauty, which resulted from a sand storm in the desert several centuries ago, which turned the sand into a white clay paste and created strange sand formations in it, especially that huge chalk rock, and it transformed the desert as a result. To what is considered an open museum to study the desert environment, geography, fossils and wonderful wildlife
BLACK AND WHITE DESERT TOUR
The Black And White Desert Tour Many Travel providers in Bahariya oasis offer White Desert trips, which can be purchased online or in Cairo. In general, these Tours include comfortable transfers to and from Cairo, a 4WD for the Desert, all meals (expect delicious local cuisine), beverages (water, tea/coffee, juices), an overnight hotel in Bahariya, camping in the White Desert, all camping equipment, and incredible tours to the above-mentioned locations. The schedule includes visits to Bahariya's palm groves and dunes, camel farms, the Crystal Mountain, the Black and White Desert Camp
WHITE DESERT SAFARI CAMPING
The White Desert Safari Camping For all lovers of adventure, travel and entertainment, if you want to enjoy, you must go to Egypt, the country of love, kindness and tolerance, the country of civilization, history and antiquities. Bedouin and camping on the lights of candles and stars, you must go to the white desert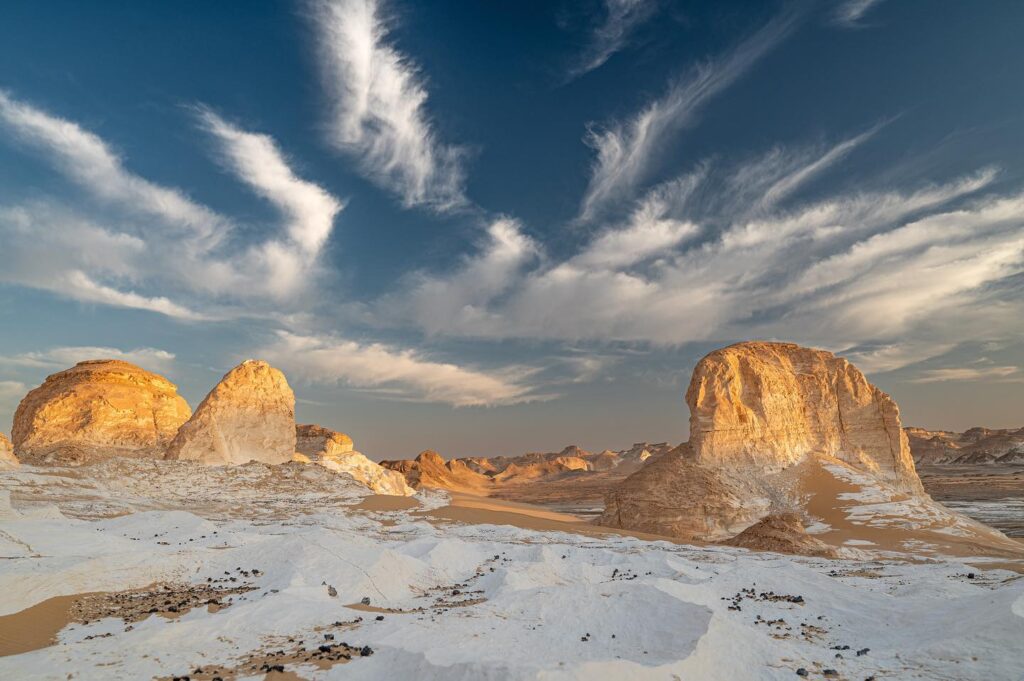 And of course the cherry on top of the activities in the White desert is " Camping ". Spending the night in a Million Star hotel is such an amazing experience that no one should miss. just you , your sleeping bag and the stars, those little twinkling lights billions of them right there above you will draw a smile of satisfaction on your face. The sound of silence around you will hit your soul so hard making you feel so energized and alive. As the sun sweeps slowly and gracefully, it will wake you up to the most graceful scene. The vast white area reflecting the shades of Orange and red will make your heart melt. In addition to that you will enjoy of course a Bedouin night that you have never dreamt of, the Bedouin songs, the camping fire along with the Delicious Bedouin food served that will make your day for sure
BLACK AND WHITE DESERT EGYPT TOURS
Black and White Desert Egypt Tours has many places to visit you will Explore the 

Bahariya Oasis 

and visit the White and Black Desert in Safari Tours by Jeep 4×4 Explore the Crystal mountain. and valley

 of Aqabat. magic spring.

Sand dunes. mountain al makhroum. Old White Desert. Great Sand Sea. Big and Small Valley. And visit green eye. And visit hot snow mountain. acacia tree. Explore the Gray rock Mountain. including overnights camping trip and you will see Milk Away in the Western Desert Egypt by private Jeep 4X4. Enjoy your experience in Western Desert Tours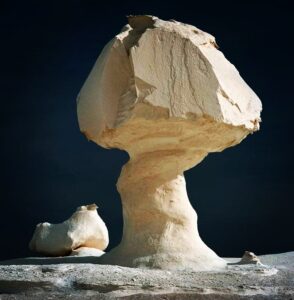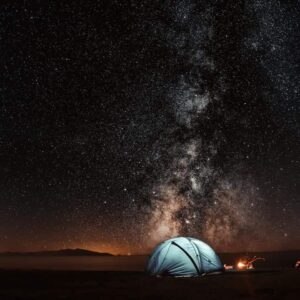 WHAT TEMPERATURE WHITE DESERT EGYPT
The temperatures are always different and at night in the specialist and you can check this

link

 
What Supplies do you need in the White Desert?
Shoes for hiking
Pants for trekking that are long
Warm clothing is required (Jacket, beanie, gloves)
Bag for sleeping (In case your tour operator does not provide it)
Headlamp
Paper Towels
Battery charger (there is not a single spot with electricity during the whole tour)
water
Snack foods (Energy bars, fruits, chocolates)
White Desert Tour  is here to provide support to Travel Lovers and make sure our customers will get unforgettable Memories and Moments while visiting Egypt and even after return, as you'll find unbeatable Activities for all ages and interests, so whichever tour activity you are thinking we help you select your destination and tailor it to match your budget and travel style with the best facilities and standards, Quality is our top priority and your satisfaction is our aim.
Activities for all ages and interests, so whichever tour activity you are thinking we help you select your destination and tailor it to match your budget and travel style with the best our team from Bahariya oasis is Bedouins Tour guide Quality is our top priority and your satisfaction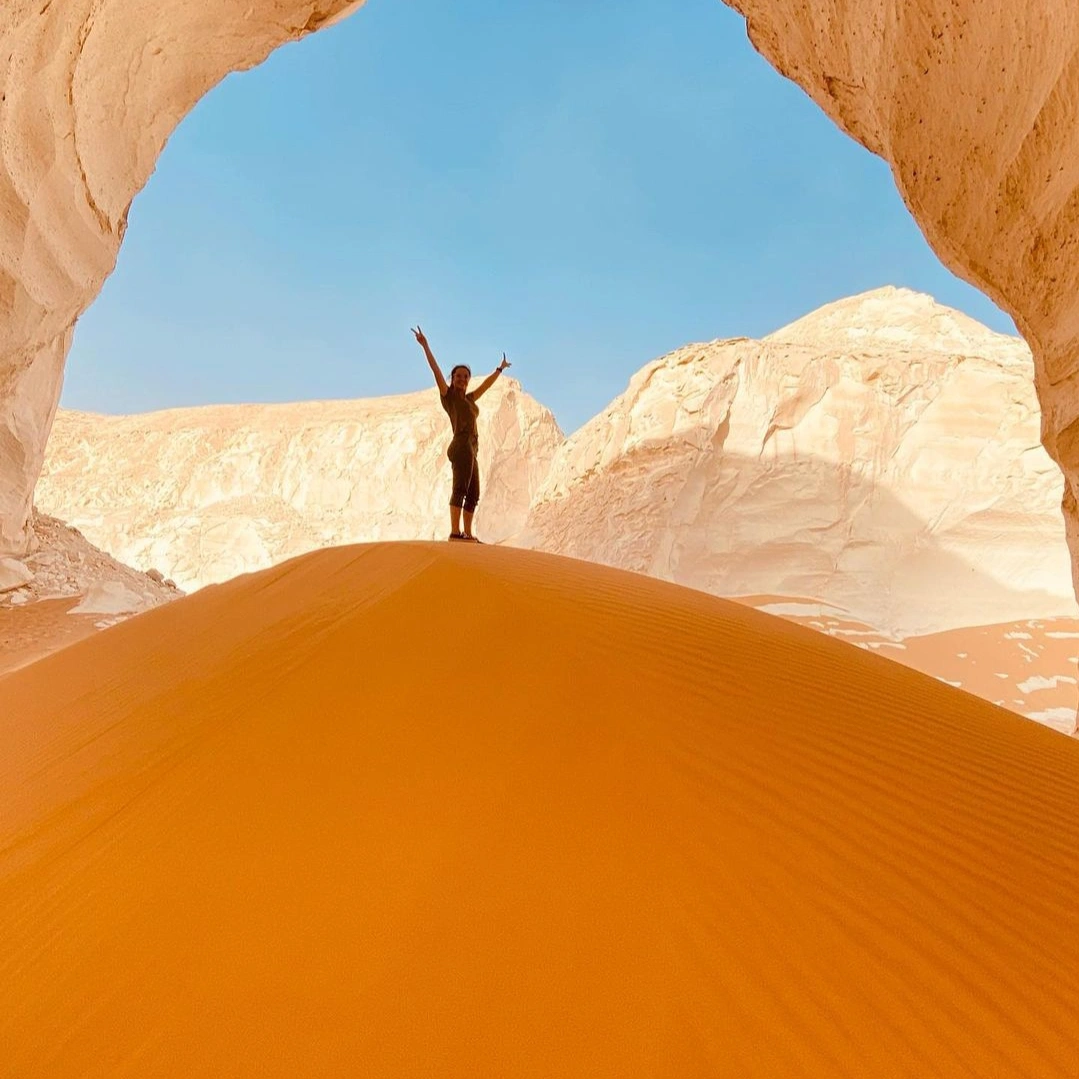 About Us
We are Bedouin family who are proud to organize all kinds of tours as a gateway to show you the true Witch of Egypt whom very few around the world know
Welcom To White Desert Egypt